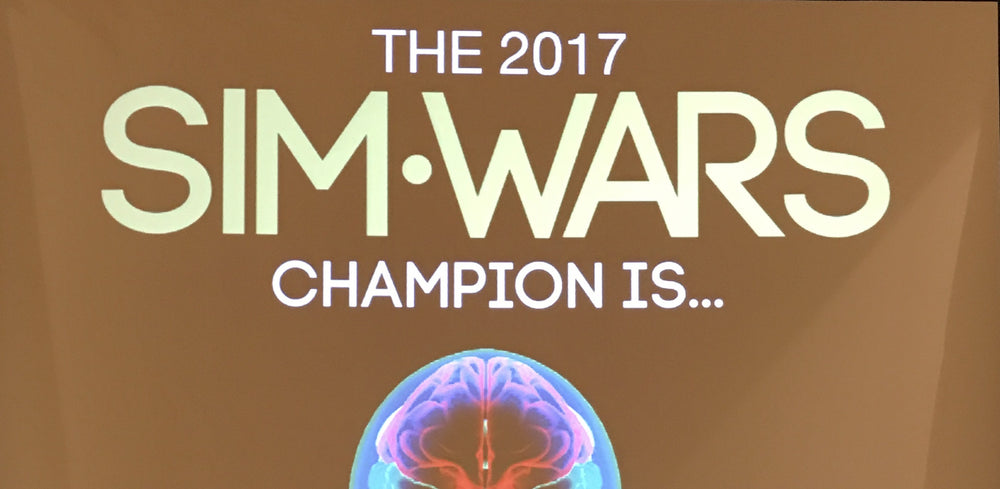 PacerMan Adds a New Layer of Challenge to SimWars 2017!
An 83 year-old-man with an implanted pacemaker suffers a syncopal event after riding the Incredible Hulk Coaster at Universal Orlando. His family takes him to the Emergency Room where they discover complete 3rd degree heart block and no visible pacer spikes. He is unresponsive to the delivery of atropine and transcutaneous pacing. What happened next might surprise you.

Determining a life-saving course of treatment for this man was the heart of a high-stakes SIMWars competition. SIMWars is a competitive learning environment, developed for emergency medicine simulation education. It is held every year at the ACEP Scientific Assembly and the SAEM Annual Meeting; and pits residency teams from across the country against each other as they manage complex patients. This year, the University of Arizona Team at SAEM successfully diagnosed and completed transvenous pacing using Simulab's high-fidelity simulator, PacerMan.

When it comes to choosing medical simulators for the event, SIMWars organizers look for models that are high performing, reliable and durable. And importantly, these simulators must be able to create complex, critical care scenarios that require teamwork skills. Christopher Sampson, MD, FACEP explains, "SIMWars decided to use PacerMan given its realistic approach to transvenous pacing in the critically ill patient. Giving our competitors the chance to actually "float" a pacing wire added a new layer of challenges for an already tough simulation case."
PacerMan was revealed when the team diagnosed the need for transvenous pacing. Simulab Product Manager, Christie Angino, who attended the event commented, "Using PacerMan added a new level of realism and team training to a procedure most of the participants had not yet experienced. Simulab is always so proud to support and be a part of the SIMWars Program."
Congratulations to all the SIMWars participants, and especially to the NYU/Bellevue EM Resident team who took home the championship!  For more information on PacerMan for transvenous pacing simulation, visit our PacerMan® System Product Page.
---